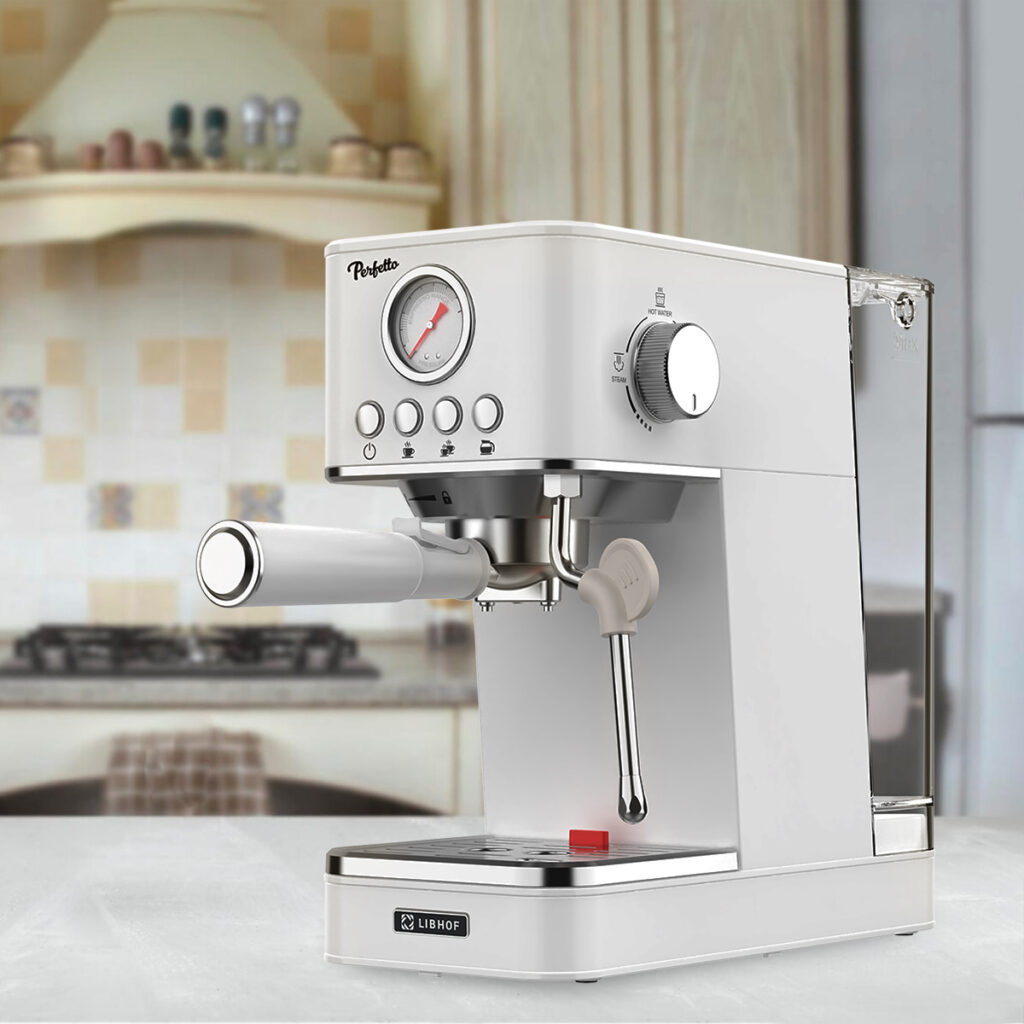 The Libhof CCM-420 coffee maker is the perfect solution for coffee lovers. It has a stylish and modern design, made in white, which will perfectly fit into any interior.
Due to its compactness, this model will easily fit in the kitchen. The device is designed for making espresso and cappuccino. You can enjoy a fragrant drink made from ground coffee.
The Libhof CCM-420 has a Steamer cappuccino machine, which makes it easy to prepare a drink with an airy foam. The coffee maker has manual control, and also has the function of simultaneously preparing two cups, which saves time and makes the cooking process more convenient. And if your cup of fragrant coffee gets cold, then the coffee maker will easily warm it up.
One of the main advantages of this model is its power – 1200 watts. This allows you to make coffee quickly and efficiently, and also provides a high pump pressure of 20 bar. In addition, the Libhof CCM-420 is equipped with a pressure gauge that allows you to control the pressure during the coffee making process.
The coffee maker is equipped with a 1.7 L water tank, and also has a removable drip tray that is easy to clean after use. The model is made of metal and plastic and has overheating protection, which ensures the durability and reliability of the device.
If you want to enjoy a fragrant coffee at home or in the office, the Libhof CCM-420 is an excellent choice.
Model
CCM-420
Maximum pressure, bar
20
Power, W
1200
Simultaneous preparation of 2 cups
Yes
Type of coffee used
ground
Control type
pen and buttons
Housing material
plastic and metal
Type of cappuccino maker
Steamer
Water tank volume, l
1,7
Voltage, W
220-240
Cord length, m
0,9
Device dimensions, mm
293х153х292
Net weight, kg
3,3
Dimensions in packaging, mm
336х194х388
Gross weight, kg
4
Equipment
1. Coffee maker
2. Ground coffee filter
3. Portafilter
4. Spoon & tamper
5. User manual
Guarantee
1 year
Peculiarities
analog pressure gauge, overheat protection, precise temperature control, warming cups
Article number
libccm420
Barcode
8583720013267
You can find the nearest store on the official Linhof dealers page.