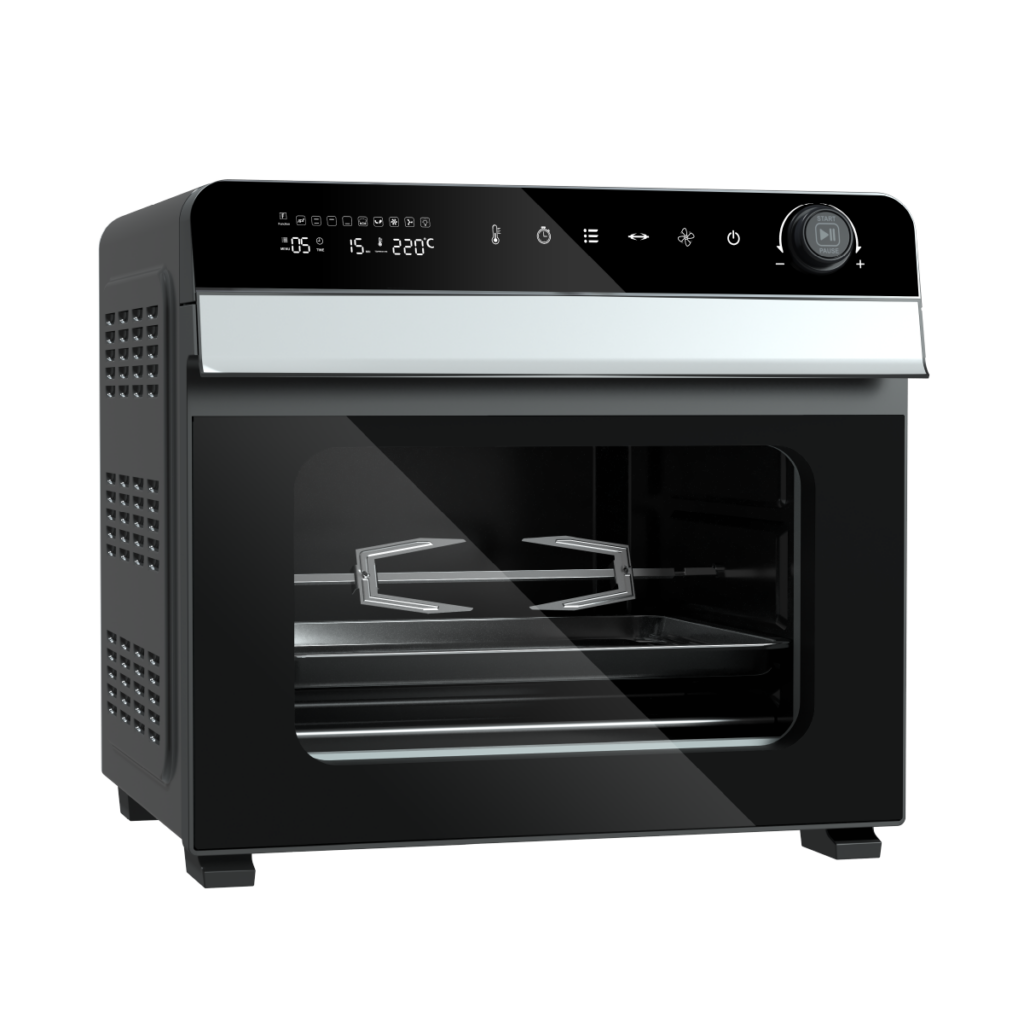 The Libhof AFX-30 air fryer is a multifunctional device that combines the functions of an air fryer and an air fryer. With its help, you can prepare a variety of dishes with a crispy crust, using a minimum of oil and retaining maximum nutrients.
The volume of the air fryer chamber is 28 liters, the power of the device is 1600 W. The model has a rotating spit and a 360°C air circulation function, which ensures fast and even heating of the dish.
Using the touch panel, you can easily set the desired temperature in the range of 40-230 degrees and cooking duration, and a shutdown timer of up to 12 hours will help you remember that the dish is ready.
The Libhof AFX-30 air grill is equipped with 18 automatic programs, which allows you to select the optimal mode for preparing various dishes. The model has protection against overheating, and if the lid is opened during cooking, it will turn off. The AFX-30 also has a double non-stick coating inside the chamber and a double heat-resistant bag, and you can use the dishwasher to clean the components.
Buy a Libhof air fryer and cook delicious and healthy meals every day!
Model
AFX-30
Volume, l
28
Power, W
1600
Temperature range, °C
40-230
Housing material
metal
Heater type
stainless steel heating element
Number of cooking programs
18
Control type
sensory
Timer, min
1-720
Lid open shutdown
Yes
Convection
Yes
Work surface material
metal
Voltage, W
220
Cord length, m
0,8
Device dimensions, mm
429х403х393
Net weight, kg
8,4
Dimensions in packaging, mm
465х445х425
Gross weight, kg
15,5
Equipment
- Air fryer
- air fryer basket
- baking tray
- oven rack
- grill set
- crumb tray
- barbecue fork
- crumb tray
- user guide
Guarantee
2 year
Peculiarities
heat-resistant double glazing, rotating spit, overheat protection, oil-free cooking
Article number
libafx30
Barcode
8583720013229
You can find the nearest store on the official Linhof dealers page.